Latest lore
Page:
1
2
3
4
5
6
29.06.2022 - Changes
It is with a heavy heart that we inform you that our vocalist Joonas has decided to leave the group.
There was no drama of any kind, there were no musical differences, and there's not a drop of bad blood between us even now.
Joonas felt that under the current cirumstances he couldn't fulfill the commitments necessary for the band to go forward anymore, and the fairest solution for everyone was to step down before starting to record the new album's vocals.
Joonas sincerely thanks everyone for the past years and wishes everyone nothing but the best. We thank Joonas for the enormous amount of work he has put into the band throughout these years.
Everlore is looking for a new lead singer to do the vocals for new album and take the band to new heights.
12.01.2022 - Album number 2 progress update
It has been a while since our last update here so here we go! Drums are done, bass is done, rhythm guitars are being recorded, and Joonas is about to do some new demo vocals for reference when it's time for the actual studio takes. We are also gathering footage for the next part of our "making of" video series on YouTube. Stay tuned!
24.10.2021 - Everlore album number 2 and drums!
We are very pleased to announce that we have started to record our second studio album! After an intense weekend of double bass power metal beats at SN Audio Production studio, the drums are on tape! Well, on a hard drive to be precise.
12.11.2020 - T-shirts and tanktops!
Men's T-shirts and women's tanktops with the debut album art are now available on our Bandcamp site! Here's our proud little mascot looking swag with a new cool Everlore shirt.
Go check out https://everlore.bandcamp.com/merch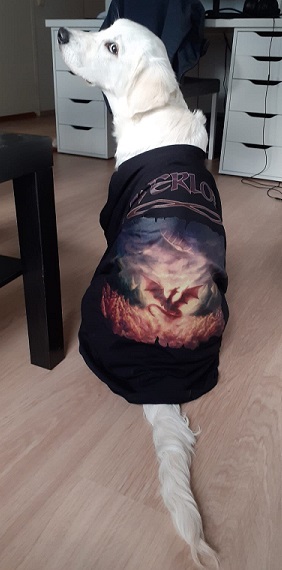 05.07.2020 - Reviews!
Since the release of our debut album we have received a nice bunch of reviews. Here are some!